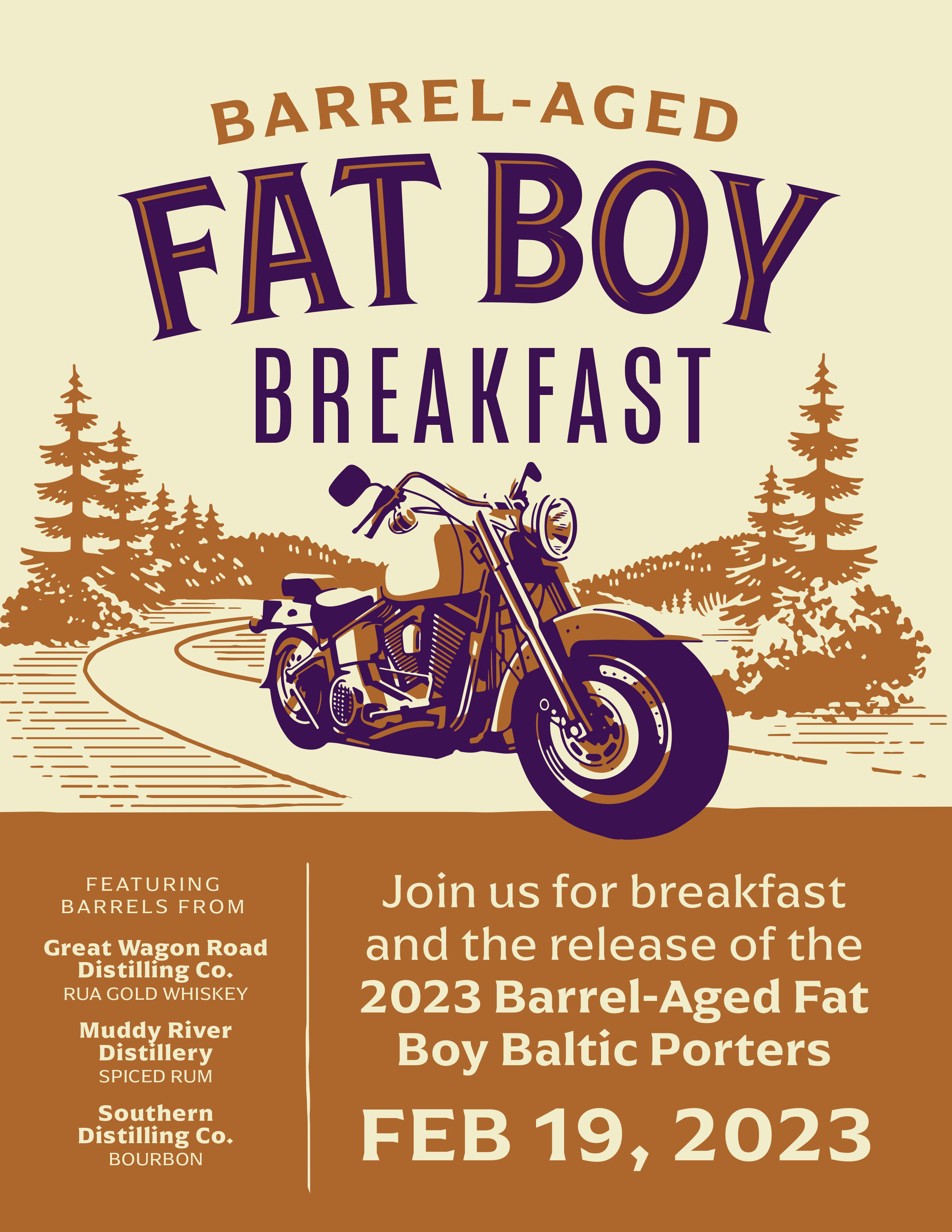 🍳
FAT BOY BREAKFAST 2023
February 19th, 2023 @ 9am – 11am
Join us on Sunday, February 19th, 2023, for our Annual Barrel-Aged Fat Boy Breakfast! The event will start at 9 am and run until 11 am. This is one of OMB's most fun and unique events, so you don't want to miss this!
This year we will have the following varieties of Fat Boy:  Our original
Fat Boy Baltic Porter,
Fat Boy aged in 
Great Wagon Road Distilling's 
Rua Gold Whisky 
Barrels,
Fat Boy aged in Muddy River Distillery's 
SpicedRum
Barrels, and
Fat Boy aged in Souther Distilling Co. 
Bourbon
Barrels.
–
SUNDAY BRUNCH
Served every Sunday from 10am – 3pm (except on event weekends)
Our talented chefs and kitchen staff prepare a new & delicious brunch each week. Menus are published on social media (Instagram & Facebook) weekly.
PRIVATE EVENTS CONTACT INFO
For any questions, please email or call our private events sales representative here:
(704) 525-5644  (ext. 119)
—
PLEASE FILL OUT THE FORMS BELOW
CHRISTMAS MARKET VENDOR INFO
OFFSITE EVENTS
HAVE OMB AT YOUR EVENT
our offsite events package includes

:
– OMB'S BEER TRAILER OR AN OMB TENT
– 3 KEGS
– 2 BARTENDERS
– OUR POURING EQUIPMENT
FOR MORE INFORMATION CONTACT:
Brooke Harty, OMB Events Manager
PROST!
HOURS:
MONDAY:   11aM – 10PM
TUESDAY:   11aM – 10PM
WEDNESDAY:   11aM – 10PM
THURSDAY:   11aM – 10PM
FRIDAY:   11aM – 11PM
SATURDAY:   11aM – 11PM
SUNDAY:   10aM – 10PM