We'll be open for regular hours on New Year's Eve and New Year's Day. 
NEW YEAR'S HOURS:
Friday, New Year's Eve (12/31/21)  
OPEN 11am – 11pm 
Saturday, new year's day (01/01/22)
open 11am – 11pm
SUNDAY (01/02/22) 
OPEN 11am – 10pm
COVID-19 Safety & Precautions
OMB is in compliance with all the latest mandates and we have all safety precautions in place as usual. Thanks in advance for your understanding and cooperation in regards to wearing a mask, social distancing, new hours, and our limitations on capacity indoors. We want to provide an extremely safe and enjoyable atmosphere for all.
HOURS:
Monday – Thursday  11am – 10pm 
Friday & Saturday 11am – 11pm 
SUNDAY  11am – 10pm 
When you walk through the doors of our Brauhaus, you'll feel like you've been transported to a Bierhall somewhere in Cologne or Düsseldorf. High ceilings, warm wood paneling, and a lively community atmosphere make the Brauhaus a great place to pull up a chair and enjoy whatever fresh flavors OMB is pouring that day.
If food is part of the plan, the Brauhaus menu includes popular German fare such as Soft German Pretzels, Currywurst and a great selection of traditional sausages and sides. We also feature traditional American options including fresh salads, handmade pizza, wings and premium Chuck & Brisket blended burgers.
Bring friends and family to the Brauhaus and plan to stay a while – rushing your way through a meal and a fresh, tasty beer kind of defeats the purpose, right? We built this place so you can hang out here, so feel free to do so. However, while you're here, please remember to drink responsibly. Safety always comes first, no matter how good the beer is.
We now take reservations during the following times:
MONDAY – THURSDAY :  11am – 7:30pm  & 
FRIDAY :  11am – 4pm
SATURDAY & SUNDAY:  NO RESERVATIONS
Please e-mail reservation requests to Jeana Bader:
BRAUHAUS & BIERGARTEN HOURS
–
MONDAY:  11am -10pm
TUESDAY: 11am -10pm
WEDNESDAY: 11am -10pm
THURSDAY: 11am -10pm
FRIDAY: 11am -11pm
SATURDAY: 11am -11pm
SUNDAY: 11am -10pm
–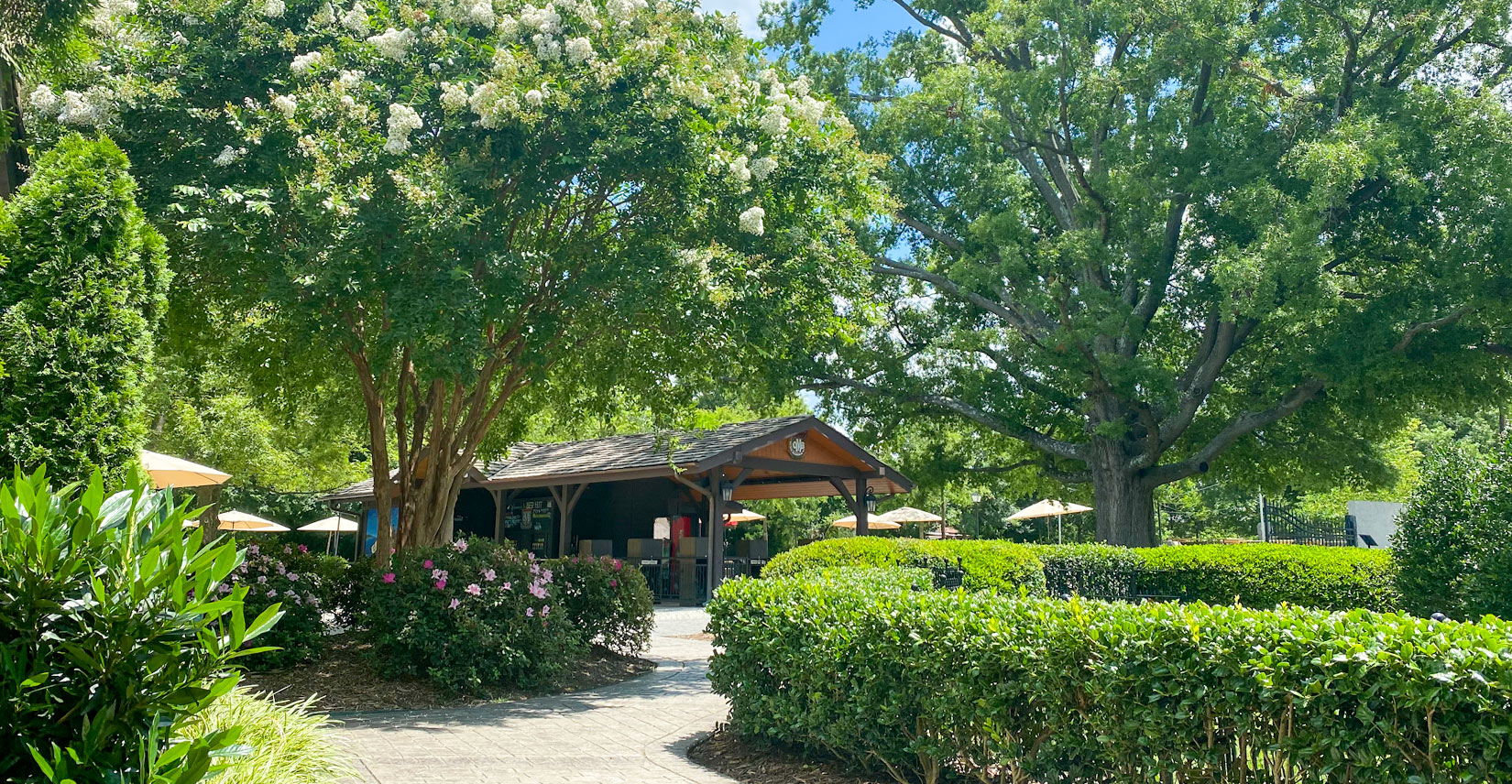 The only thing better than drinking Charlotte's freshest beer is drinking Charlotte's freshest beer in the largest Biergarten in the Southeast. Reminiscent of the world famous Biergartens of Munich, OMB's 'garten is a natural oasis just minutes away from the hustle and bustle of "real life." Set on eight (yes, eight) picturesque acres surrounded by 100-year-old oak, mature pecan and hickory trees, the wide-open spaces of the Biergarten make it an ideal place for families to eat, friends to meet, and even for pets to enjoy a little down time.
Whether it's a beautiful spring day playing cornhole, or a cold evening huddled around a blazing firepit, you won't find a better atmosphere in the Queen City to enjoy a fresh, cold beer. When you're here you may wonder if it's the beautiful surroundings that make the beer taste soooooo good, or if it's the remarkably fresh beer that makes the Biergarten feel like the best place on Earth. Darned if we know the answer, but we invite you to do all the necessary research here until you figure it out.
You can also enjoy a limited-offering food menu from the 'Garten Grill while relaxing outside.
HOURS:
MONDAY:   11aM – 10PM
TUESDAY:   11aM – 10PM
WEDNESDAY:   11aM – 10PM
THURSDAY:   11aM – 10PM
FRIDAY:   11aM – 11PM
SATURDAY:   11aM – 11PM
SUNDAY:   10aM – 10PM